I've been contemplating what I'd like to have as my mission statement for blogging. This is not the same as a subject focus. I've proven to myself over the years that I'm incapable of writing to only one subject! But a banner idea ... something to guide my spirit as I write, to remind me of my purpose in public journalling, and what I want to give to the world ... this would be helpful.
This morning, I came upon
a post on twitter
about protecting roadside verges so wildflowers can grow. This kind of thing regularly fills my feed as I use twitter to resource myself with images and messages for beauty. But this morning, this post, this contemplation of service - along with an apparent cyber strafe on my tiny little blog which didn't last long but astonished me nonetheless - brought everything into clarity.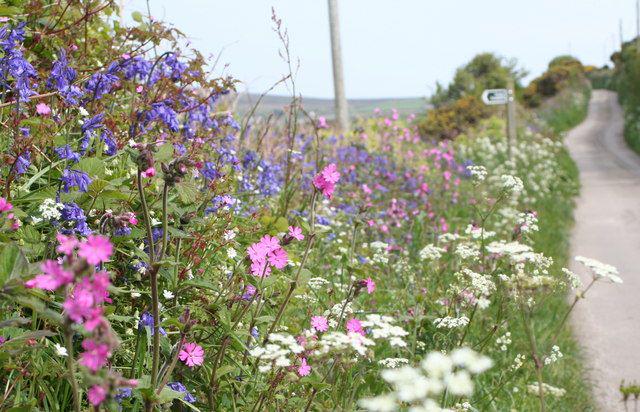 I would like my webspace to be like a country lane edged with wildlflowers. A gentle place, fragrant with warm breezes, peaceful with the sounds of nature. The sort of place which I absolutely can not find anywhere near where I actually live in the world, rarely in books, and in no people except those few online, in faraway places, who offer it through their own webspaces.
I have almost come to terms with not being able to wander through a place like this in the material world. Perhaps one day I'll visit England and finally have the experience, although perhaps it would be harder to have that experience and then return to an ordinary environment. But I can try to create it in spirit. In words. In wishes.
(With a stormy-looking sky now and again, for the little thrill that provides ... and a rainshower to bless the world with delicate magic and make the homecoming cup of warm tea extra delicous ... )
That then will be the banner for my writing heart from now on. Wild peace.